Yoshihisa Kawahara
(born on June 22, 1976) is a Japanese voice actor affiliated with
Across Entertainment
.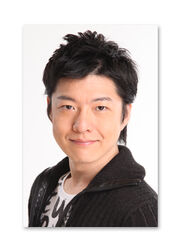 His noteworthy credits include: Pierce Aogami (
A Certain Magical Index
), Bobby (
Binbō-gami ga!
), Zwei/Hugo Stingrail (
Hiiro no Kakera
), Yomotsu Hirasaka (
Future Diary
), Mikihito Higashida (
Kämpfer
), Visor Crossroad (
I Couldn't Become a Hero, So I Reluctantly Decided to Get a Job.
), and Koreyuki Tani (
Hyōka
). In
He's Our Fallen Angel
, he is the voice of
Ren Ushikaze
.
Ad blocker interference detected!
Wikia is a free-to-use site that makes money from advertising. We have a modified experience for viewers using ad blockers

Wikia is not accessible if you've made further modifications. Remove the custom ad blocker rule(s) and the page will load as expected.