Yūko Sanpei
(born February 28, 1986) is a Japanese voice actress. Her notable character roles include: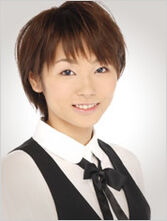 Hajime Yasaka (
Natsu no Arashi!
), Nozomi Yumehara/Cure Dream (
Yes! PreCure 5
), Selim Bradley/Pride (
Fullmetal Alchemist: Brotherhood
),
Renton Thurston
(
Eureka Seven
), Kakeru Aizawa (
The Knight in the Area
), Alexander "Sasha" Nikolaevich Hell
(The Qwaser of Stigmata), Kanata Saionji (UFO Baby), and Chizuru Yoshida (Kimi ni Todoke). In He's Our Fallen Angel, she was the voice of Masatsu Hadagi
Ad blocker interference detected!
Wikia is a free-to-use site that makes money from advertising. We have a modified experience for viewers using ad blockers

Wikia is not accessible if you've made further modifications. Remove the custom ad blocker rule(s) and the page will load as expected.