Yūki Kaji
(born September 3, 1985) is a Japanese voice actor; he is currently represented by the talent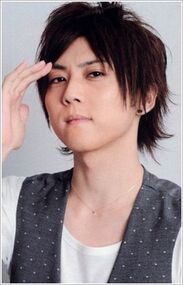 agency VIMS. His notable roles consist of: Lyon Vastia (
Fairy Tail
), Subaru Hasegawa (
Ro-Kyu-Bu!
),
Eren Jaeger
(
Attack on Titan
), Alibaba Saluja (
Magi: The Labyrinth of Magic
), Kanato Sakamaki (
Diabolik Lovers
), Issei Hyōdō (
High School DxD
), Haruyuki Arita/Silver Crow (
Accel World
), Finnian (
Kuroshitsuji
), Oscar (
Lupin the Third: The Woman Called Fujiko Mine
), Tatara Totsuka (
K
), Shu Ouma (
Guilty Crown
), and Walker Yumasaki (
Durarara!!
). Kaji provided the voice of
Tomas Hōkō
in the anime series
He's Our Fallen Angel
.
Ad blocker interference detected!
Wikia is a free-to-use site that makes money from advertising. We have a modified experience for viewers using ad blockers

Wikia is not accessible if you've made further modifications. Remove the custom ad blocker rule(s) and the page will load as expected.