Tsubasa Yonaga
(born January 15, 1984) is a Japanese voice actor, currently working for
Ken Production
.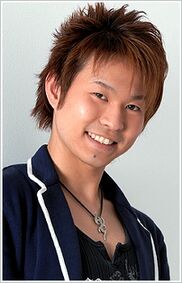 Throughout his career, Yonaga's credits include: Nagisa Hazuki (
Free! - Iwatobi Swim Club
), Satsuki Hanabusa (
Yumeiro Patissiere
), Jude Mathis (
Tales of Xillia
), Shinobu Inue (
Hakkenden: Eight Dogs of the East
), Aichi Sendō (
Cardfight!! Vanguard
), Ren Mihashi (
Big Windup!
), Catherine (
Chaos Code
), and Nova (
La storia della Arcana Famiglia
). He lent his voice to
Atsui Daikon
in
He's Our Fallen Angel
.
Ad blocker interference detected!
Wikia is a free-to-use site that makes money from advertising. We have a modified experience for viewers using ad blockers

Wikia is not accessible if you've made further modifications. Remove the custom ad blocker rule(s) and the page will load as expected.