Tomokazu Sugita
(born October 11, 1980) is a Japanese voice actor affiliated with Atomic Monkey. His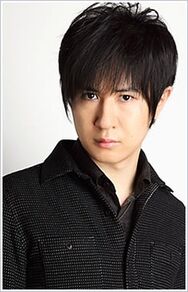 noteworthy credits include: Joseph Joestar (
Battle Tendency
),
Kyon
(
The Melancholy of Haruhi Suzumiya
), Ragna the Bloodedge (
BlazBlue
),
Gintoki Sakata
(
Gin Tama
), Takumi Mayama (
Honey and Clover
), Yūichi Aizawa (
Kanon
), Kazuyoshi "Switch" Usui (
Sket Dance
), Yatarō (
Cuticle Detective Inaba
), Chrom (
Fire Emblem Awakening
), and Nova and Kensei Muguruma (
Bleach
). Sugita voiced
Ibuki Inukida
in the
He's Our Fallen Angel
anime series.
Ad blocker interference detected!
Wikia is a free-to-use site that makes money from advertising. We have a modified experience for viewers using ad blockers

Wikia is not accessible if you've made further modifications. Remove the custom ad blocker rule(s) and the page will load as expected.