Shinji Kawada
(born October 6, 1971) is a Japanese voice actor affiliated with
Ken Production
. Kawada's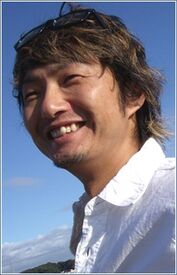 noteworthy credits consist of: Tōichirō Kazamatsuri (
Ladies versus Butlers!
), Jenon (
Blaze Union: Story to Reach the Future
), Shino Aburame (
Naruto
), Torao Ueda (
Gunparade Orchestra
), Haruki Hanai (
School Rumble
), Gōta Nakamura (
Buso Renkin
), Ryūtarō Mine (
Nodame Cantabile
), Banboku Takahara (
Taishō Baseball Girls
),
Peter Parker/Spider-Man
(
Marvel Disk Wars: The Avengers
), and Aguri Io (
Kiss Dum: Engage Planet
). He provided the voice of
Tsūgeki Nagare
in the anime series
He's Our Fallen Angel
.
Ad blocker interference detected!
Wikia is a free-to-use site that makes money from advertising. We have a modified experience for viewers using ad blockers

Wikia is not accessible if you've made further modifications. Remove the custom ad blocker rule(s) and the page will load as expected.