Yasushi Ōhama
(born August 2, 1958), better known by the name
Shō Hayami
, is a Japanese voice actor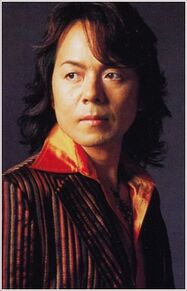 and singer. Represented by Office Osawa, his notable credits include:
Maximillian Jenius
(
The Super Dimension Fortress Macross
), Yakushiji Tenzen (
Basilisk
), Exkaiser (
Brave Exkaiser
),
Sōsuke Aizen
(
Bleach
), Tokiomi Tōsaka (
Fate/Zero
), Wisemon (
Digimon Xros Wars
), Ayanami (
07-Ghost
), Nicholas D. Wolfwood (
Trigun
), and Enrico Pucci (
JoJo's Bizarre Adventure All Star Battle
). Hayami is the voice of
Dracul the Rejected
in the anime television series
He's Our Fallen Angel
;
Kōji Ishii
previously lent his voice to the character during a flashback.
Ad blocker interference detected!
Wikia is a free-to-use site that makes money from advertising. We have a modified experience for viewers using ad blockers

Wikia is not accessible if you've made further modifications. Remove the custom ad blocker rule(s) and the page will load as expected.