Sayaka Ohara
(born December 6, 1975) is a Japanese voice actress affiliated with
Haikyō
. Her notable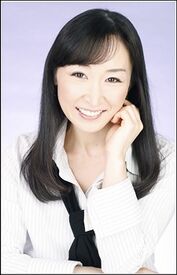 credits include:
Yūko Ichihara
(
xxxHolic
), Miya Asama (
Sekirei
), Erza Scarlet/Erza Knightwalker (
Fairy Tail
), Milly Ashford (
Code Geass: Lelouch of the Rebellion
), Margaret (
Persona 4
), Akane Sano (
Kurokami: The Animation
), Rika Harada (
Honey and Clover
), Layla Hamilton (
Kaleido Star
), Kaede Misumi (
Please Teacher!
), Irisviel von Einzbern (
Fate/Zero
), and Beatrice (
Umineko no Naku Koro ni
). She provided the voice of
Shikisai
in the anime series
He's Our Fallen Angel
.
Sayaka has a younger brother, fellow voice actor Takashi Ōhara.
Ad blocker interference detected!
Wikia is a free-to-use site that makes money from advertising. We have a modified experience for viewers using ad blockers

Wikia is not accessible if you've made further modifications. Remove the custom ad blocker rule(s) and the page will load as expected.