Sōichirō Hoshi
(born on May 30, 1972) is a Japanese voice actor represented by the talent agency,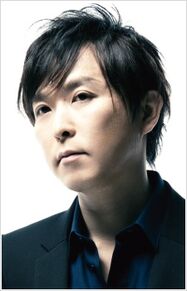 Arts Vision
. His notable roles include: Masaru Daimon (
Digimon Savers
), Keiichi Maebara (
Higurashi When They Cry
),
Kira Yamato
(
Mobile Suit Gundam SEED
), Son Goku (
Saiyuki
), Sanada Yukimura (
Sengoku Basara
), Yorunami (
Arata: The Legend
), Kazuma (
Scryed
), Yūki Aiba (
Infinite Ryvius
), Kazuki Fūchōin (
GetBackers
), Tomoki Sakurai (
Sora no Otoshimono
), and Gino Weinberg (
Code Geass: Lelouch of the Rebellion R2
). In the
He's Our Fallen Angel
anime, Hoshi is the voice-over for
Yujimaru Sugumo
.
Ad blocker interference detected!
Wikia is a free-to-use site that makes money from advertising. We have a modified experience for viewers using ad blockers

Wikia is not accessible if you've made further modifications. Remove the custom ad blocker rule(s) and the page will load as expected.