Nobunaga Shimazaki
(born on December 6, 1988) is a Japanese voice actor. Currently affiliated wit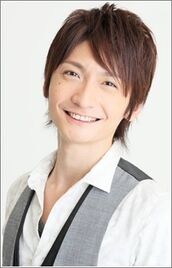 h
Aoni Production
, his notable roles include: Shidō Itsuka (
Date A Live
), Satoru Furuya (
Ace of Diamond
), Kazuya Maeda (
Photo Kano
), Mahesh Mirza/Mahatma Gandhi (
Nobunagun
), Nanase Haruka (
Free!
), Kōichi Madanbashi (
Kenzen Robo Daimidaler
), Tarjim Vasily (
Buddy Complex
), and Utsutsu Hasegawa (
Pupa
). In the anime series
He's Our Fallen Angel
, he voiced
Hari Odoriba
.
Ad blocker interference detected!
Wikia is a free-to-use site that makes money from advertising. We have a modified experience for viewers using ad blockers

Wikia is not accessible if you've made further modifications. Remove the custom ad blocker rule(s) and the page will load as expected.