Mitsuaki Madono
(born July 28, 1964) is a Japanese voice actor represented by
Aoni Production
.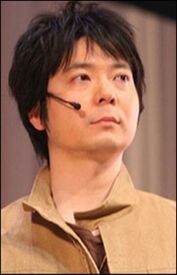 Madono's notable credits consist of: Tōru Adachi (
Persona 4
), Sorata Arisugawa (
X/1999
), Mugen no Byakuya (
InuYasha
), Kon (
Bleach
), Kaname Ōgi (
Code Geass: Lelouch of the Rebellion
), Joker (
Flame of Recca
), Dr. Clive (
Haré+Guu
), Junpei Azuma (
Cross Game
), and Issei Ryūdō (
Fate/stay night
). He provides the voice of
Maikunin
in the anime television series
He's Our Fallen Angel
.
Ad blocker interference detected!
Wikia is a free-to-use site that makes money from advertising. We have a modified experience for viewers using ad blockers

Wikia is not accessible if you've made further modifications. Remove the custom ad blocker rule(s) and the page will load as expected.