Mikako Komatsu
(born November 11, 1988) is a Japanese voice actress affiliated with Hirata Office.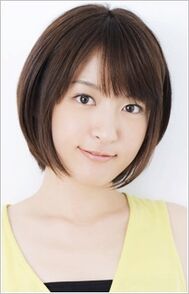 Komatsu's noteworthy credits include: Neko (
K
), Seishirō Tsugumi (
Nisekoi
), Marika Katō (
Bodacious Space Pirates
), Kotori Mizuki (
Yu-Gi-Oh! Zexal
), Joseph Carter "Joey" Jones (
Heroman
), Miuna Shiodome (
Nagi no Asukara
), Kaguya (
Momo Kyun Sword
), Inko Amifumi (
Aldnoah.Zero
), Sei Iori (
Gundam Build Fighters
), and Keita (
Natsuiro Kiseki
). She lent her voice to
Tatsume Uekomi
in the anime series
He's Our Fallen Angel
.
Ad blocker interference detected!
Wikia is a free-to-use site that makes money from advertising. We have a modified experience for viewers using ad blockers

Wikia is not accessible if you've made further modifications. Remove the custom ad blocker rule(s) and the page will load as expected.