Mika Doi
(born
August 4, 1956), née Mika Itō, is a Japanese voice actress. Her notable roles include: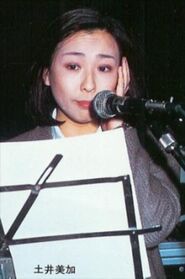 Eclipse (Kiddy Grade), Yatsugashira (Himawari!), Houquet et Rose (Genesis Climber MOSPEADA), Coby (One Piece), Queen Serenity (Pretty Guardian Soldier Moon), Yū
ri Shijō (
Vividred Operation
), Kaori Sakiyama (
Air Master
), and
Takani Megumi
(
Rurouni Kenshin
). Doi lent her voice to
Higure Kihaku
in the anime series
He's Our Fallen Angel
.
Ad blocker interference detected!
Wikia is a free-to-use site that makes money from advertising. We have a modified experience for viewers using ad blockers

Wikia is not accessible if you've made further modifications. Remove the custom ad blocker rule(s) and the page will load as expected.