Masaya Onosaka
(born on October 13, 1964) is a Japanese voice actor who is currently represented by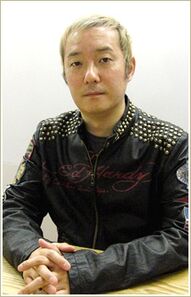 Aoni Production
. Masaya's credits include, but are not restricted to: Shinji Hirako (
Bleach
),
Vash the Stampede
(
Trigun
), Leon Orcot (
Pet Shop of Horrors
), Don Patch (
Bobobo-bo Bo-bobo
), Isaac Dian (
Baccano!
), Takeshi Sendō (
Hajime no Ippo
), Mantaro Kinniku/Mantaro Kinnikuman/Mantaro Muscle (
Ultimate Muscle: The Kinnikuman Legacy
), France (
Hetalia: Axis Powers
), Azazel (
Yondemasuyo, Azazel-san
), and Zelos Wilder (
Tales of Symphonia
). He lent his voice to
Seiuchi
in the anime series
He's Our Fallen Angel
.
Ad blocker interference detected!
Wikia is a free-to-use site that makes money from advertising. We have a modified experience for viewers using ad blockers

Wikia is not accessible if you've made further modifications. Remove the custom ad blocker rule(s) and the page will load as expected.