Masahito Yabe
(born July 9, 1970) is a Japanese voice actor who is affiliated with Genki Project. Yabe's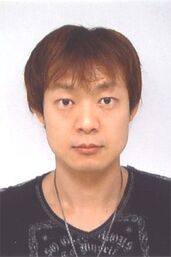 notable roles include: Kappa (
Nurarihyon no Mago
), Naoki Takeda (
Phi Brain: Puzzle of God
), Miguel (
Moonlight Mile
), Bunnykis (
Beast Saga
), Albert "Chamo" Chamomile (
Magical Teacher Negima!
), Octopus Nakajima (
Seto no Hanayome
), Hōsuke (
Sket Dance
), and Ebisu no Zukin (
Intrigue in the Bakumatsu
). In
He's Our Fallen Angel
, he portrayed the character,
Basami Enjō
.
Ad blocker interference detected!
Wikia is a free-to-use site that makes money from advertising. We have a modified experience for viewers using ad blockers

Wikia is not accessible if you've made further modifications. Remove the custom ad blocker rule(s) and the page will load as expected.