Makiko Ōmoto
(born February 1, 1973) is a Japanese voice actress. Ōmoto's notable credits consist of: Yui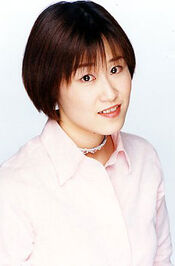 Kasuga/Corrector Yui (
Corrector Yui
), Natsuko Aki (
Cutie Honey Flash
),
Kirby
(
Kirby
), Yoshiko Fujisawa (
Captain Tsubasa: Road to 2002
), Fīne Eleceene Lyney (
Zoids
), Sayaka Maizono (
Danganronpa: Academy of Hope and High School Student of Despair
),
Ness
(
Super Smash Bros.
), and Nero Stella Boruzoi (
Bakusō Kyōdai Let's & Go!!
). In the anime series,
He's Our Fallen Angel
, she voiced
Kyōkan Enokidake
.
Ad blocker interference detected!
Wikia is a free-to-use site that makes money from advertising. We have a modified experience for viewers using ad blockers

Wikia is not accessible if you've made further modifications. Remove the custom ad blocker rule(s) and the page will load as expected.