Kenji Akabane
(born October 31, 1984) is a Japanese voice actor. His notable credits in voice acting include: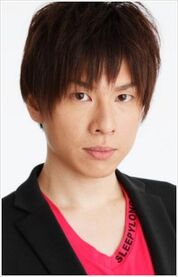 Dragon Shiryū
(
Saint Seiya: Legend of Sanctuary
), Yasuo Nanbu (
Space Battleship Yamato 2199
), Sakuya Fujitaka (
Senki Zesshō Symphogear
), the Producer (
THE iDOLM@STER
), Akira Sōma (
Meganebu!
), Takashi Dai/Banker (
Star Driver
), and Guido Mista (
JoJo's Bizarre Adventure: All Star Battle
). Akabane was the voice of
Majinmajo
in the anime television series
He's Our Fallen Angel
.
Ad blocker interference detected!
Wikia is a free-to-use site that makes money from advertising. We have a modified experience for viewers using ad blockers

Wikia is not accessible if you've made further modifications. Remove the custom ad blocker rule(s) and the page will load as expected.