Kappei Yamaguchi
(born May 23, 1965), underratedly known by his birth name
Mitsuo Yamaguchi
, is a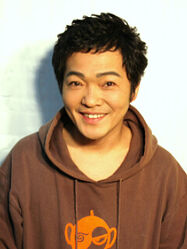 Japanese voice actor and actor affiliated with both
21st Century Fox
and Gokū. His noteworthy character roles consist of:
L Lawliet
(
Death Note
), Raimon "Monta" Taro (
Eyeshield 21
), Usopp (
One Piece
), Ranma Saotome (
Ranma ½
), Ryūichi Sakuma (
Gravitation
), Retro (
Dead Leaves
), InuYasha (
InuYasha
), Sai Saicii (
Mobile Fighter G Gundam
), Kuma (
Persona 4
), Shinpachi Nagakura (
Peacemaker Kurogane
),
Kaito Kuroba
and
Shinichi Kudo
(
Detective Conan
), and Hideyoshi Sōya (
The Law of Ueki
). In the anime series,
He's Our Fallen Angel
, he is the voice-over for
Hayato Zanshu
.
Ad blocker interference detected!
Wikia is a free-to-use site that makes money from advertising. We have a modified experience for viewers using ad blockers

Wikia is not accessible if you've made further modifications. Remove the custom ad blocker rule(s) and the page will load as expected.