Kaoru Mizuhara
(born June 26) is a Japanese voice actress affiliated with
Across Entertainment
.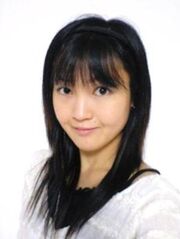 Mizuhara's noteworthy roles include, but are not restricted to: Luca (
Bodacious Space Pirates
), Yomi Isayama (
Ga-Rei: Zero
), shrshr (
gdgd Fairies
), Erika Takesono (
Princess Lover!
), Gisen Yagyū (
Hyakka Ryōran: Samurai Girls
), Peggi (
Tokyo ESP
), Misao Kusakabe (
Lucky Star
), and Zakuro Kurumaki (
Yozakura Quartet ~Hana no Uta~
). She supplied the voice of
Baketsu Tsutsumi
in the anime series
He's Our Fallen Angel
.
Ad blocker interference detected!
Wikia is a free-to-use site that makes money from advertising. We have a modified experience for viewers using ad blockers

Wikia is not accessible if you've made further modifications. Remove the custom ad blocker rule(s) and the page will load as expected.