Kaori Mizuhashi
(born August 28, 1974) is a Japanese voice actress employed by
Arts Vision
. Her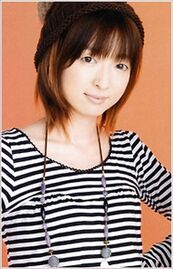 noteworthy roles include: Mami Tomoe and Tatsuya Kaname (
Puella Magi Madoka Magica
), Sara Shirogane (
Futakoi
), Laharl (
Disgaea
), Minami Shimada (
Baka and Test
), Taeko Minazuki (
Ai Yori Aoshi
), Mayl Sakurai (
Rockman.EXE
), Miyako (
Hidamari Sketch
),
Yūno Scrya (
Magical Girl Lyrical Nanoha
), Yagyū (
Senran Kagura: Ninja Flash!
), Sakuya (
Utawarerumono
), and Akane Suzumiya (
Akane Maniax
). Kaori supplies the voice of
Zarubokki
in the anime television series
He's Our Fallen Angel
.
Ad blocker interference detected!
Wikia is a free-to-use site that makes money from advertising. We have a modified experience for viewers using ad blockers

Wikia is not accessible if you've made further modifications. Remove the custom ad blocker rule(s) and the page will load as expected.