Kaito Ishikawa
(born October 13, 1993) is a Japanese voice actor represented by
Pro-Fit
. His notable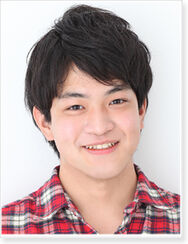 roles consist of: Manatsu Sōda (
Red Data Girl
),
Pegasus Seiya
(
Saint Seiya: Legend of Sanctuary
), Tobio Kageyama (
Haikyū!!
), Charlemagne (
Nobunaga the Fool
), Ledo (
Gargantia on the Verdurous Planet
), Tsumugu Kihara (
Nagi no Asukara
), and Mao Saitō (
Super Seisyun Brothers
). He was the voice of
Kujira Inukida
in
He's Our Fallen Angel
.
Ad blocker interference detected!
Wikia is a free-to-use site that makes money from advertising. We have a modified experience for viewers using ad blockers

Wikia is not accessible if you've made further modifications. Remove the custom ad blocker rule(s) and the page will load as expected.