Kōji Ishii (born July 1, 1960) is a Japanese voice actor currently represented by Vi-Vo. His roles include:
Lory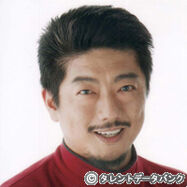 Takarada (
Skip Beat!
), Shintarō Okuzaki (
Samurai Flamenco
), Ōji Tanaka (
The Legend of Black Heaven
), Hōgen (
Ginga Legend Weed
), Kôtarô Taiga (
The King of Braves GaoGaiGar
), Garterbelt (
Panty & Stocking with Garterbelt
), Mr. Kimura (
Azumanga Daioh
), and
Ryuji Yamazaki
and Gatō (
Fatal Fury
). In the anime television series,
He's Our Fallen Angel
, Ishii provided the voice of
Dracul the Rejected
.
Ad blocker interference detected!
Wikia is a free-to-use site that makes money from advertising. We have a modified experience for viewers using ad blockers

Wikia is not accessible if you've made further modifications. Remove the custom ad blocker rule(s) and the page will load as expected.