Hiroki Yasumoto
(born March 16, 1977) is a Japanese voice actor employed at the
Sigma Seven
talent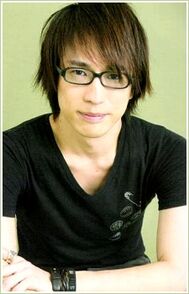 agency. His notable credits include: Tōga Yagari (
Vampire Knight
), Takenami (
Nogizaka Haruka no Himitsu
),
Guile
(
Street Fighter
), Germany (
Hetalia: Axis Powers
), Hideo Murata (
Natsu no Arashi!
), Elfman Strauss (
Fairy Tail
),
Yasutora "Chad" Sado
(
Bleach
), Jackknife Dragon (
Future Card Buddyfight
), Albertio Ende (
Hataraku Maou-sama!
), and Cain Warlock (
Black Blood Brothers
). In a series known as
Nurarihyon no Mago
, Yasumoto voiced
Aotabō
; he reprised the role during Episode 6 of
He's Our Fallen Angel
.
Ad blocker interference detected!
Wikia is a free-to-use site that makes money from advertising. We have a modified experience for viewers using ad blockers

Wikia is not accessible if you've made further modifications. Remove the custom ad blocker rule(s) and the page will load as expected.