Hiroki Takahashi
(born on September 7, 1974) is a Japanese voice actor at Big Shot/
Interchannel
. His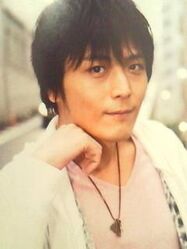 noteworthy credits include: Rayne (
Neo Angelique Abyss
), Impmon/Beelzebumon (
Digimon Tamers
), Japan (
Hetalia: Axis Powers
), Superbi Squalo (
Katekyō Hitman Reborn!
), Hisoka (
Hunter x Hunter
), Eiji Kikumaru (
The Prince of Tennis
), Kenji Harima (
School Rumble
),
Ryu
(
Street Fighter
), Parco Folgore (
Konjiki no Gash!!
), and Shoji Endō (
Nana
). Takahashi voices
Genma Taniguchi
in
He's Our Fallen Angel
.
Ad blocker interference detected!
Wikia is a free-to-use site that makes money from advertising. We have a modified experience for viewers using ad blockers

Wikia is not accessible if you've made further modifications. Remove the custom ad blocker rule(s) and the page will load as expected.