Daisuke Ono
(born May 4, 1978) is a Japanese voice actor employed at the
Mausu Promotion
talent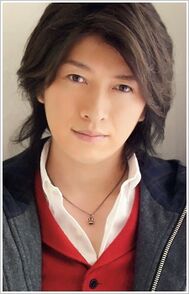 agency. His noteworthy credits include: Kyōsuke Kishi (
Yozakura Quartet
), Jack Vessalius (
Pandora Hearts
), Itsuki Koizumi (
The Melancholy of Haruhi Suzumiya
), Sebastian Michaelis (
Kuroshitsuji
), Kuroh Yatogami (
K
), Jōtarō Kujō (
JoJo's Bizarre Adventure: All Star Battle
), Shizuo Heiwajima (
Durarara!!
), Cain Dressel (
Valvrave the Liberator
), and Battler Ushiromiya (
Umineko no Naku koro ni
). In the
He's Our Fallen Angel
series, Ono lends his voice to
Vlad the Palest
.
Ad blocker interference detected!
Wikia is a free-to-use site that makes money from advertising. We have a modified experience for viewers using ad blockers

Wikia is not accessible if you've made further modifications. Remove the custom ad blocker rule(s) and the page will load as expected.