Ayahi Takagaki
(born October 25, 1985) is a Japanese voice actress and singer. Takagaki's notable credits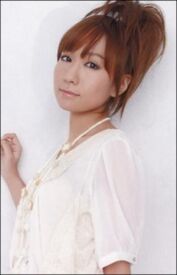 include: Nina Antalk (
Chrome Shelled Regios
), Erika Karisawa (
Durarara!!
), Kuro (
Blue Exorcist
), Feldt Grace (
Mobile Suit Gundam 00 Second Season
), Jasmine (
Deltora Quest
), Noe Isurugi (
True Tears
), Lisbeth/Rika Shinozaki (
Sword Art Online
), Hiiragi (
Hanamaru Kindergarten
), Mikako Satsukitane (
Sora no Otoshimono
), Kotoha (
Arata: The Legend
), and Luminella Hotaru (
Gaist Crusher
). She was the voice of
Hideri Uzuwan
in the anime series
He's Our Fallen Angel
.
Ad blocker interference detected!
Wikia is a free-to-use site that makes money from advertising. We have a modified experience for viewers using ad blockers

Wikia is not accessible if you've made further modifications. Remove the custom ad blocker rule(s) and the page will load as expected.