Aya Hirano
(born October 8, 1987) is a Japanese voice actress and J-pop singer currently contracted to the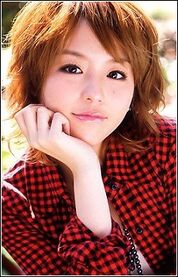 voice acting agency Grick, and
Universal Sigma
; Hirano was previously with Space Craft Produce and
Lantis
. Her notable voice-over credits include:
Misa Amane
(
Death Note
), Lucy Heartfilia (
Fairy Tail
), Konata Izumi (
Lucky Star
), Layla Serizawa (
Nana
), Ume Kurumizawa (
Kimi ni Todoke
),
Haruhi Suzumiya
(
The Melancholy of Haruhi Suzumiya
), Mamori Anezaki (
Eyeshield 21
), Lumière (
Kiddy Grade
), and Nanael (
Queen's Blade
). She provided the voice of
Lilith Sugumo
in
He's Our Fallen Angel
.
Ad blocker interference detected!
Wikia is a free-to-use site that makes money from advertising. We have a modified experience for viewers using ad blockers

Wikia is not accessible if you've made further modifications. Remove the custom ad blocker rule(s) and the page will load as expected.