Atsushi Imaruoka
(born May 23, 1972) is a Japanese voice actor affiliated with the talent agency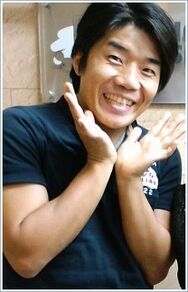 Mausu Promotion
. Imaruoka's noteworthy roles consist of:
George Tarleton/M.O.D.O.K.
(
Marvel Disk Wars: The Avengers
), Dallas Genoard (
Baccano!
), Adon (
Super Street Fighter IV
), Slyger (
Tenkai Knights
), Rudol von Stroheim (
JoJo's Bizarre Adventure
), Nagasumi's mother (
Seto no Hanayome
), Claugh Klom (
The Legend of the Legendary Heroes
), and Breakdown (
Transformers: Prime
). He was the voice of
Gusoku Garagara
in the anime series
He's Our Fallen Angel
.
Ad blocker interference detected!
Wikia is a free-to-use site that makes money from advertising. We have a modified experience for viewers using ad blockers

Wikia is not accessible if you've made further modifications. Remove the custom ad blocker rule(s) and the page will load as expected.