Ai Kayano
(born September 13, 1987) is a Japanese voice actress and singer represented by
Pro-Fit
.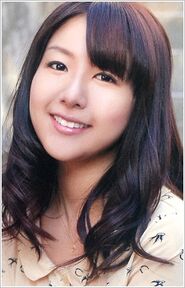 Kayano's noteworthy voice-over credits include: Muginami (
Lagrange: The Flower of Rin-ne
), Inori Yuzuriha and Mana Ōma (
Guilty Crown
), Saori Takebe (
Girls und Panzer
), Hana Mutō (
Captain Earth
), Hitoe Uemara (
Selector Infected WIXOSS
), Roman Saotome (
Sket Dance
), Mogana Kikaijima (
Medaka Box
), Hibino Shiba (
Kamisama Dolls
), Isana Tachibana (
Dream Eater Merry
), and Mikan Tsumiki (
Super Dangan Ronpa 2: Sayonara Zetsubō Gakuen
). In
He's Our Fallen Angel
, she lent her voice to the character
Yabun Myakuha
.
Ad blocker interference detected!
Wikia is a free-to-use site that makes money from advertising. We have a modified experience for viewers using ad blockers

Wikia is not accessible if you've made further modifications. Remove the custom ad blocker rule(s) and the page will load as expected.